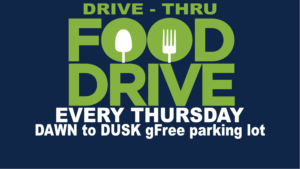 Every Thursday from dawn to dusk, bring your food donations to the gFree parking lot. We will have a car with signage that you can load with your food donations. We will alternate giving to the YMCA weekend bags and Community Action. This will allow everyone to donate WITHOUT having to make any additional trips to the store.
Foods Needed:
Boxed Dry Pasta
Pasta Sauce
Boxed Macaroni & Cheese
Grape Jelly in Plastic Bottles
Nutrigrain Bars
Canned tomato and chicken noodle soup
Instant oatmeal
Bottled Water
Other non-perishable food items
You can mail a monetary donation directly to the church or donate online by using the GIVE link at the top or bottom of the page
.
Please mark your donation "Food"