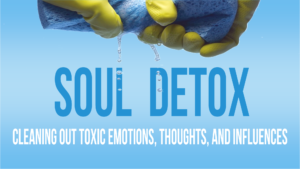 Our culture unknowingly ingests regular doses of spiritual toxins that assault our relationship with God. This five-session video-based study shines light on the dark influences, emotions, and behaviors to empower Christians to live pure lives and grow closer to God.
Through concise teaching and honest humor, Soul Detox provides a source of inspiration and encouragement for a faith-filled lifestyle that will keep you free from spiritual toxins.
Small Groups – Small groups studying Craig Groeschel's Soul Detox are forming now and will meet for 5 weeks starting the week of 2/9/2020. These groups will contain 8-12 people and are an informal time to get to know others, pray for, and support one another. Sundays are not enough! Sign-up for a small group today on Your Connection Card and place it in the offering basket at the end of service today.
Contact: matt@gfree.org
Small Group Day, Time, and Leaders
Sunday @ 5:30pm
Monday @ 6:30pm
Tuesday @ 6:30pm
Wednesday @ 7:00pm
Friday @ 7:00pm
Saturday @ 9:00am (Sr. High Only)